One of the most important things about being a pet owner is to make sure that your Labrador is eating healthy and growing strong.  Figuring out what to and what not to feed your Labrador can be challenging.
Can Labradors eat peanut butter?  Peanut butter is a great treat for your Labrador and is safe and an excellent source of vitamins, fats and minerals.  When purchasing peanut butter, try to get peanut butter that is unsalted and plain so that your Labrador is not getting any extra, unnecessary things such as sodium or sugar.
Most peanut butters are great for your Labrador and it offers a tasty treat for them.  One of the most important things to give your Labrador is a high protein diet and that is what is great about peanut butter, the protein that it contains.
Peanut butter is full of fat, protein and vitamins and minerals and so it is important that you limit this food for your Labrador.  Even though it offers a great source of these things, it can also cause your dog to be overweight, if they consume too much of it.
How Much Peanut Butter Should I Give My Labrador?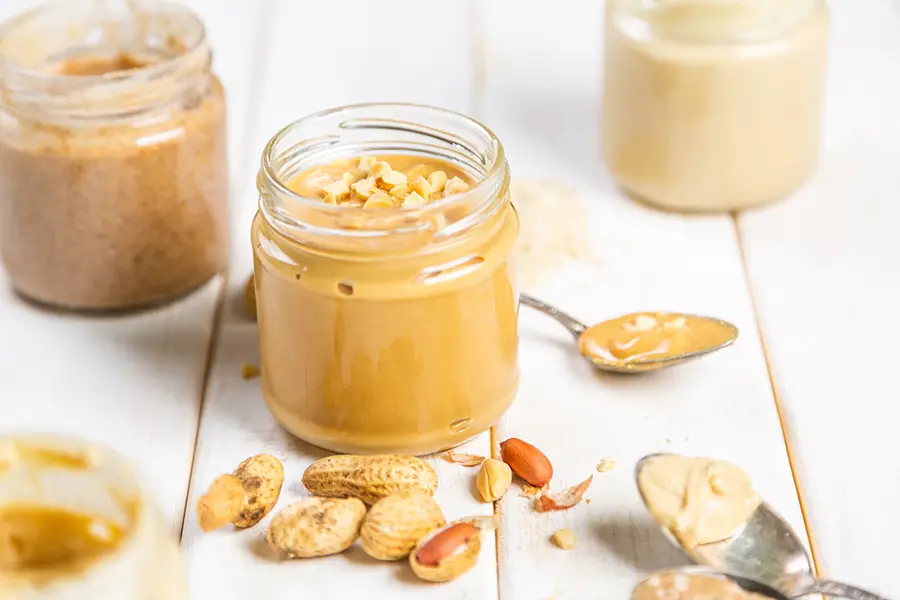 It is very important to figure out how much peanut butter, or any other snack food, that you should give your Labrador.  Feeding them too much food with high fat or sugar can cause your Labrador to be overweight and this can lead up to unnecessary health problems.
One great way to find out how much peanut butter to give your Labrador is to ask your local vet.  He or she should be able to give you the right amount, based on your Labradors size.
Another great way to figure out how much peanut butter to give your Labrador is using the 90/10 rule.  This means that 90% of all the calories that your Labrador consumes should be from dog food and that 10% of the calories should be from snacks or tasty treats. 
It is important to change up the treats so that your dog does not get bored with the treat.  You can find other treats that are healthy and great for your dog such as fresh fruits and vegetables but remember, all of these things contain added sugars and so moderation is the key. 
When is Peanut Butter Unsafe?
It is important to make sure that the peanut butter that you buy for your Labrador is safe and does not have any added ingredients that are dangerous for your dog's health.  Some recent peanut butter has changed, and they have added extra ingredients such as honey, cashews, macadamia nuts and more.  These are specialized peanut butter and it is very important to look at the label.
Another peanut butter is the low sugar or sugar-free peanut butter that is on the market.  This peanut butter contains an ingredient called Xylitol.  Xylitol is a sugar substitute that is found in foods that are sugar-free and this is an ingredient that is very toxic for dogs and can make your Labrador very sick.
Xylitol
Xylitol is a sugar substitute that causes insulin to release quickly in your dogs.  Even though this is safe for humans, it can be deadly for your Labrador Retriever.  This substitute for sugar can cause your Lab's blood sugar to drop very quickly and can cause your dog to become hypoglycemic as fast as an hour after eating xylitol. 
If this happens, it can be deadly for your Labrador and it can quickly poison your Labrador's body.  If you see that you have fed your dog this ingredient, you need to get your Labrador to the vet as quickly as possible, taking the peanut butter with you so that your vet can see what might have caused this reaction.
Here are some reactions that you might see and if you see these, take your Lab to the vet immediately:
Seizures
Collapsing
Not Able to Walk Straight
Weakness
Staggering
Muscle Weakness
Tremors
Which Peanut Butters Contain Xylitol?
When looking at the label, always look for xylitol before giving food to your dog.  Here are a few brands of peanut butter that you should avoid at all costs when purchasing for your Labrador or any of your pets:
Go Nuts, Co.
Krush Nutrition.
Nuts 'N More
P28 Foods
All of the above brands contain some type of xylitol and can be deadly for your dog.
Pet Poison Hotline
If you have an issue or think that your Labrador has eaten something poisonous, call this number (855)764-7661.  This is the Pet Poison Helpline.
What Other Foods Contain Xylitol?
Being extremely cautious when you decide what food your Labrador is going to eat is very smart.  Sometimes, companies seem to sneak in extra ingredients that can be harmful to your pet, so it is important to watch all of the labels. 
Here is a list of foods that contain xylitol and these are foods that you should avoid giving to your Labrador at all costs:
Airheads (Candy, Gum).
Bach Flower (Gum).
B Fresh (Gum).
Branam (Gum).
Sugar-Free Breath Mints
Dentyne Pure Mint
Melon Accents
Butterscotch Bliss
Whimsical Watermelon Lollipop
Caramels from Café Caramel
Chocolate Collection
Caramel Swirls
Peppermint Taffy
Tablet Tangy Melon
No Cow Brownie Batter
No Cow Fluffbutter
No Cow Chocolate S'Mores Peanut
No Cow Vanilla Maple Frosting
Go Nuts Almond Butter
Avalon Select Tru Chocolate
Dr. John's Gourmet Chocolate
Dr. John's Mint
Barry Farm Sugar-Free Pie Filling
Clemmy's Rich and Creamy Ice Cream.
Health Garden Kosher Cookies
Jell-o Boston Cream Pie Sugar-Free
Any Jell-o Sugar-Free
ProYo Swell Ice Cream
Wegmans Sugar-Free
Wheyhey Sugar-Free
What Peanut Butter is Best for My Labrador?
Even though most human peanut butter is great as a treat for your Labrador, you can also get treats that are made of peanut butter that are specifically made for your dog.
These peanut butter treats come in the form of treats, bones and other tasty snacks and is very safe for your dog.  These, just like the regular peanut butter, should be given in moderation so that your dog does not put on extra weight. 
Can My Labrador Eat Peanuts?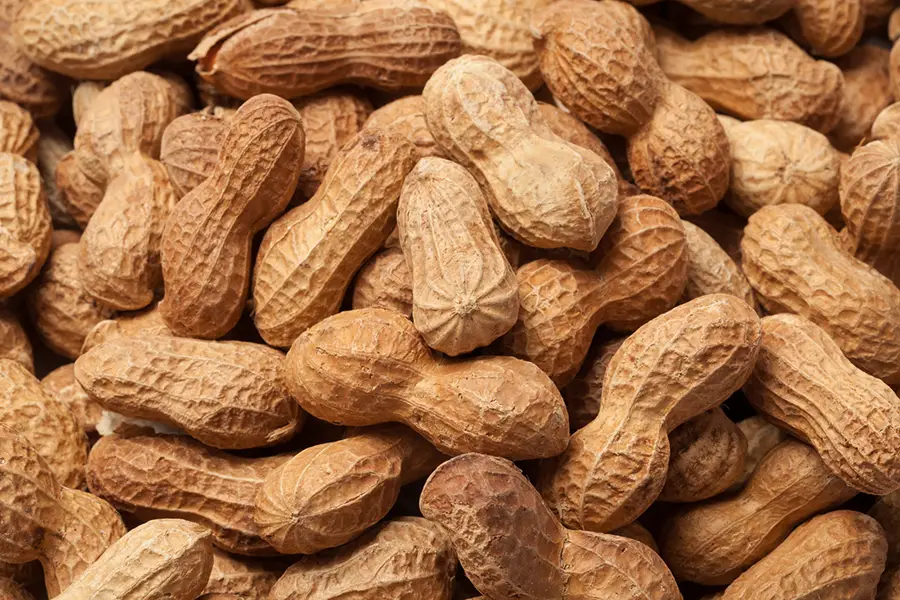 Some peanuts are safe for your Labrador to eat.  Just like peanut butter though, it is important to watch your dog make sure that he or she is not having any type of allergic reaction to any of the peanuts that you are giving them.
Peanuts are bad for your dog if they have an allergic reaction and you should immediately stop feeding them to your Labrador and get your Lab checked out by your local vet. 
If you find out that your Labrador is in fact allergic to peanuts, make sure that you put them on high shelves that your Labrador cannot reach, otherwise, he or she will be trying to get that tasty treat even if it makes them sick.
Can My Labrador Get Diarrhea from Peanut Butter?
When you give your Labrador tasty table food treats, chances are that he or she might be allergic to that food.  New foods or different foods can cause your pet to have stomach issues such as gas or diarrhea. 
It is important that you introduce foods one at a time to your Labrador so that you can make sure that he or she is not allergic to the food that they are given and if so, you can know that it is not wise to reintroduce that food.
Peanut butter is a very popular treat for dogs and for humans, but some dogs do have allergic reactions to peanuts.  If your dog has an allergic reaction to peanuts, it can result in things such as:
Skin Irritation
Hair Loss
Ear Infections
Breathing Troubles
Make sure that you take note of any of the symptoms if you give your Labrador peanut butter for the first time.
Remember, peanut butter is a great source of fat, protein and vitamins and minerals, but there are other foods that are too and if your dog is experiencing any type of discomfort, stop giving them peanut butter and find another source of tasty treats.
What Other Foods Can My Labrador Be Allergic To?
Here is a list of foods that your Labrador could be allergic to:
Vegetables
Eggs
Peanut Butter
Cheese
Fresh Fruits
Nuts
Raw Foods
Bread Dough
Conclusion
Labrador Retrievers love to eat food and to be introduced to new treats.  Peanut butter is a great treat to give your Labrador as long as it does not contain food that is dangerous or poisonous to your pet. 
Be sure to read all of the labels before giving your dog new foods and make sure that it does not contain any ingredients that could be harmful to your Labrador.  Peanut butter contains great things such as protein, fats, vitamins and minerals and so as long as your peanut butter contains natural ingredients and your Labrador is not allergic to nuts, this is a great treat to add to your Labs diet.